THE ONE SALON FOR MEN AND WOMEN ™
UPDATED May 6, 2020

We welcome you all back to Salon 01! We are so grateful for your support through your online purchases, Gift Card sales, and waiting for us to serve you.
We know you are all anxious to hear from us and we are continuing to work on our reopening guidelines, training, and the rescheduling of 8 weeks of appointments to the best of our ability.


Thank you for your patience during this process. We are certain this won't be the last time we ask for it.


We can't wait to see you, even though we will all be in masks!


Please review the following guidelines for your upcoming visit: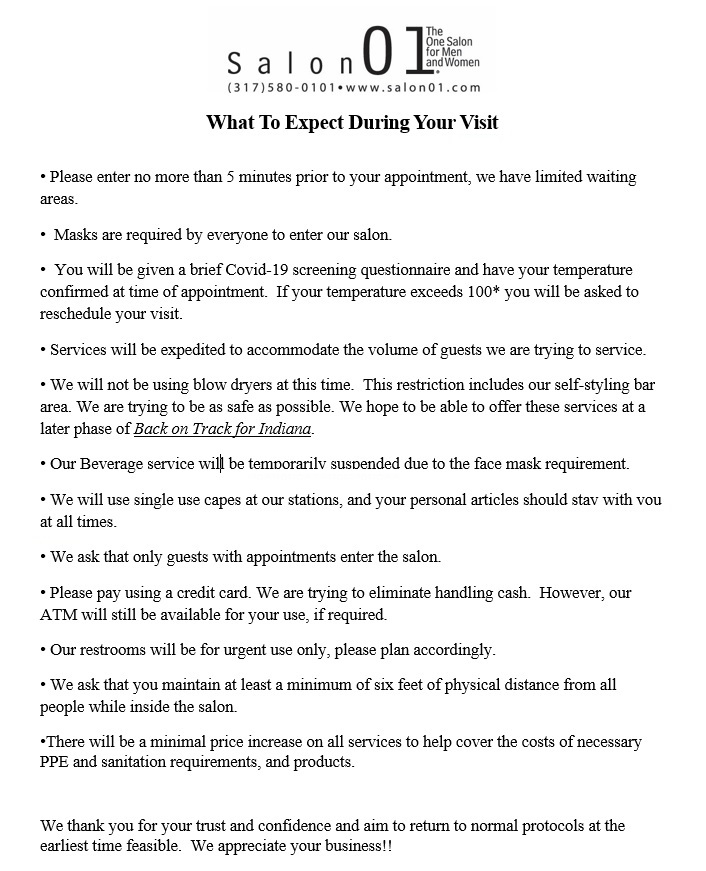 UPDATED May 4, 2020
We look forward to serving you soon!! We are working very hard to prepare our salon environment to adjust to this temporary normal as we try to minimize risks to both staff and guests during this pandemic. We ask for your patience and grace while we all adjust. We promise to do our best, and we ask that you understand it will temporarily be a different experience. We will need to be efficient with our time and services to take care of as many clients as we can-given the burden of required additional cleaning protocols. This may mean that you might be called to adjust your appointments and/or services. We apologize for these inconveniences and hope you will understand.
This week (May 4th) we will begin calling guests that have recently missed previously scheduled appointments.
We plan to have employees staffing our phone system for your calls and appointment requests beginning May 11th. We will also re-open the salon's retail boutique on that date-May 11th. Additionally, we plan to continue to offer online ordering and curbside pick-up until further notice.
We plan on re-opening May 18th for in-salon services.
We will have our staff in for additional training during the next 2 weeks to prepare all areas of our salon for your return. We thank you in advance for your loyalty and patience with us. We know that this has been difficult to bear and we very much want to please you.
THANK YOU FOR WAITING ON US!! 😊
Appointments Currently Unavailable
Menu of Services
At Salon 01, we utilize products that we truly believe in. We carry our own Salon 01 Concepts hair care brand, along with Aquage, Biomega, DevaCurl, Malibu C Wellness, Nioxin, American Crew and Jack Black. You will find Jan Marini, Jane Iredale and Éminence Organic Skin Care in our skincare department, and Artego at our color bar.
Salon 01 was a dream to work with, they were both flexible and accommodating with our wedding date and needs. Would highly recommend them to any bride who wants one less thing to worry about!
JILLIAN - WEDDING WIRE
@SALON01CARMEL
FOLLOW US ON INSTAGRAM The latest in services, products and stunning transformations!
Give us a call or drop by to make an appointment with one of our stylists